The 2012 USDA Plant Hardiness Zone Map is the standard by which gardeners and growers can determine which plants are most likely to thrive at a location.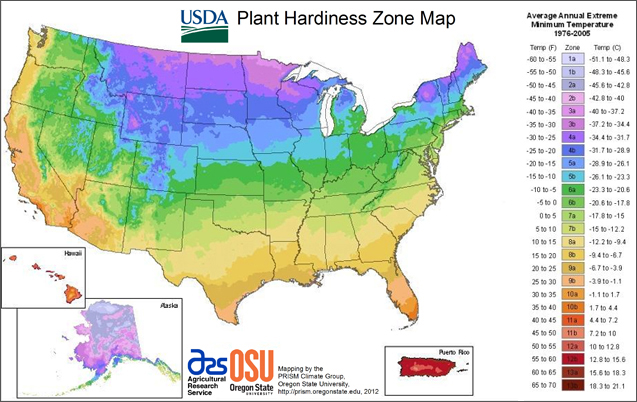 The Plant Hardiness Zones divide the United States and Canada into 11 areas based on a 10 degree Fahrenheit difference in the average annual minimum temperature. (The United States falls within Zones 2 through 10). For example, the lowest average temperature in Zone 2 is -50 to -40 degrees Fahrenheit, while the minimum average temperature in zone 10 is +30 to +40 degrees Fahrenheit. 
For the first time, the map is available as an interactive GIS-based map, for which a broadband Internet connection is recommended, and as static images for those with slower Internet access. Users may also simply type in a ZIP Code and find the hardiness zone for that area.
Click here to be redirected to the USDA website to access the USDA Plant Hardiness Zone Map.